Written by Soumia Hammi and Jessica Finol, Blog Team Directors
When Kamala Harris was officially elected vice-president, the first woman and woman of color to hold such an office, thousands of people in America celebrated, not only because they believed she was a worthy candidate, but because, for many of them, they finally had someone in the White House in whom they could see themselves. The poem "Brown girl, brown girl" by Leslie Honoré perhaps put it best in its first lines "Brown girl Brown girl what do you see I see a president that looks like me." These lines capture why we celebrate milestones such as the first female director to win a Golden Globe, the first African American Supreme Court justice, or the first woman of color to become Vice President. We celebrate these milestones as steps forward in American society towards true equality and as mirrors in which children can see themselves and their futures.

Children who see people like themselves on screen or in books constantly as a sidekick or the butt of a joke might never feel empowered to be a leader in their own lives or, seeing themselves perform one type of role, might never be encouraged to try a different one. And if children never see characters like themselves in possession of traits they admire, like courage, empathy, and charm, their self-esteem and self-worth will likely decrease. This is why diverse role models and characters for children in real life and in fiction are so important. Not only do they allow children to see positive, complex role models that are like themselves, they serve as a promise to younger audiences that there are a wide array of paths before them, unlimited by their race, gender, or sexual orientation.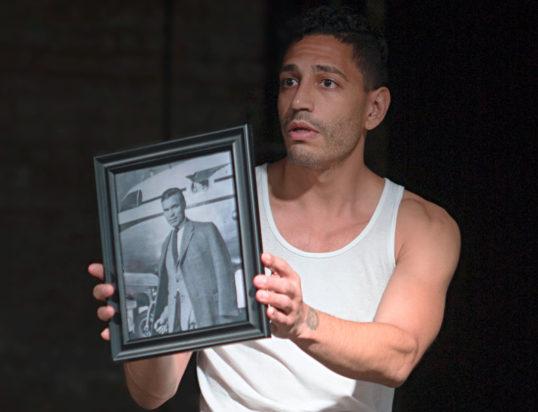 Pictured: Christopher Rivas
This representation is highlighted in Christopher Rivas' production of The Real James Bond Was Dominican. Presented by Culture Shock, the play tells the story of a young Dominican boy who idolizes the character of James Bond and discovers that Porfirio Rubirosa, Ian Fleming's inspiration for Bond, was also Dominican. The play portrays  "a young man's guide to love, sex, color, code-switching, white-washing, success, fake-it-till-you-make-it, and the roller coaster of finding one's true self."

Ian Fleming, the author of the James Bond series, is said to have drawn inspiration for his character from Dominican socialite, Porfirio Rubirosa, aka Rubi. In addition to being a Dominican diplomat, race-car driver, and polo player, Rubi was known for his jet-setting lifestyle and playboy personality, qualities which are also essential to Bond's character. However, Fleming never did confirm whether or not he was inspired by Rubi when creating the character of James Bond. This is most likely because Rubi was mixed race, and Flemming's audience in the 1950s and 60s would not have been very accepting of this. This erasure of Rubi's influence due to his heritage is one seen time and time again throughout popular media. After more than fifty years, his story is finally told through Rivas' performance, spreading a message of self-acceptance and diversity. Catch this performance February 25th and 26th at the Miami-Dade County Auditorium!
Come see The Real James Bond... Was Dominican at the Miami-Dade County Auditorium on Friday, February 25th and Saturday, February 26th at 8:00 PM. Remember to check the Culture Shock Miami website for $5 tickets for ages 13-22!