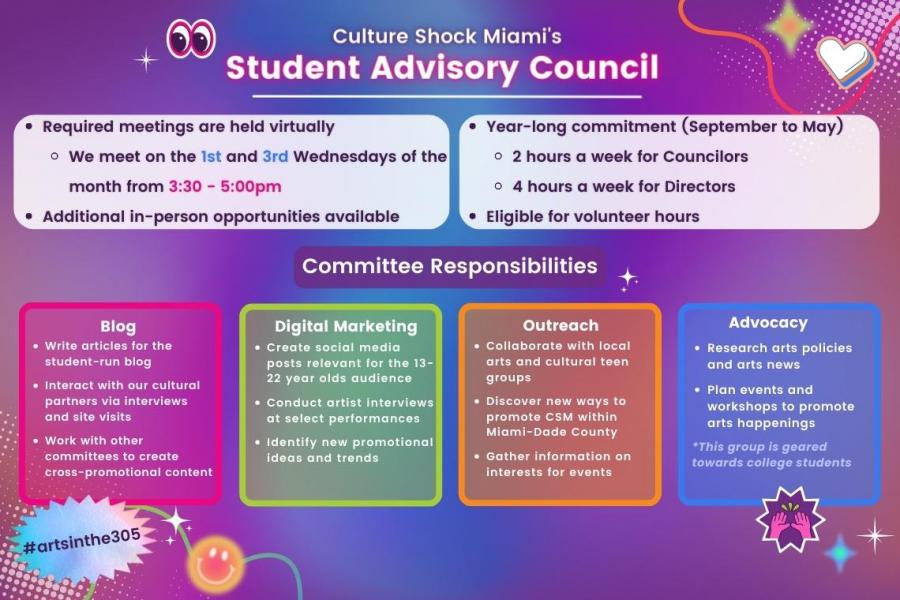 Are you always telling your friends about museums you should visit or concerts you should attend? Do you enjoy learning about how arts events are made or how theatres run? Maybe you also like meeting other creatives and talking through new ideas? If this sounds like you, then you should apply to the Culture Shock Miami Student Advisory Council! If you want to learn more about what the council does, visit our Meet the Council page or check out our Blog!
As a Council member you get to:
Attend shows and visit museums!
Write for the Student Council blog
Develop social media campaigns
Advocate the importance of the arts in the community
Staff the info table for events throughout the season
Serve on committees that assist with planning and/or promoting events    
Share information about Culture Shock Miami with your community
Learn about the administrative side of the arts 
Receive volunteer credit for your school (as applicable)
We meet virtually during the school year (September - May) on the 1st and 3rd Wednesdays of the month from 3:30 - 5:00 PM. Anyone is welcome to apply (no arts experience necessary), but you must be within the program's age range (13-22) to apply.
Applications are now closed for the 2022-2023 Student Advisory Council. If you would like to join the 2023-2024 Student Advisory Council, please fill out this interest form to be notified once applications are open. Contact info@cultureshockmiami.com with any questions!