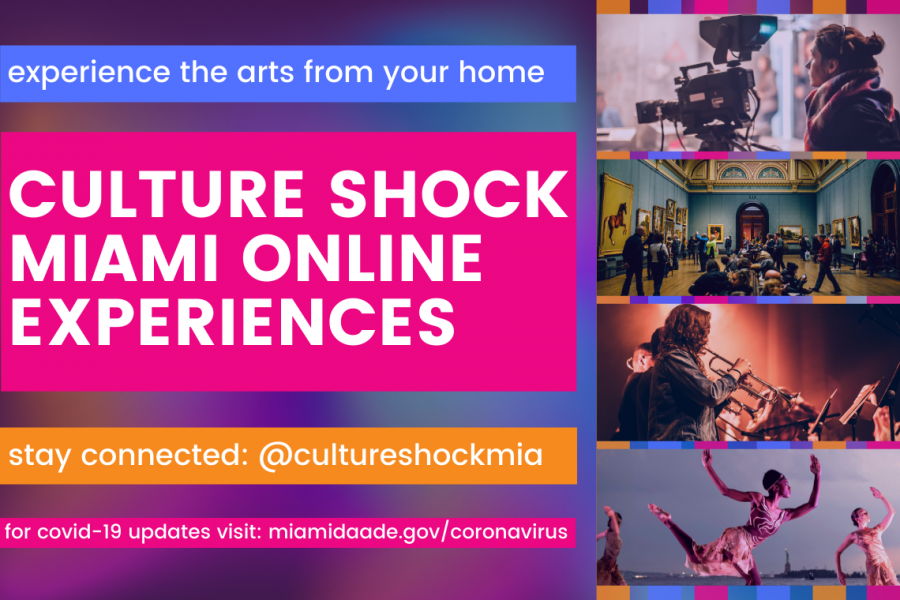 Miami-Dade County remains vigilant in taking measures to stop the spread of COVID-19. As a result, county owned facilities are currently closed, as are theatres, some museums, parks, libraries, and performance spaces throughout Miami-Dade and South Florida. 
In light of these cancellations and closings, Culture Shock Miami remains as committed as ever to provide affordable access to arts and culture! Read on for a list of online performances, virtual exhibitions, and on-demand resources that will help you keep the arts alive and well during this time. This list is updated regularly!
If you know of an online event or resource that is not listed below, let us know about it! 
Museums and Visual Arts
Vizcaya Museum and Gardens Free Online Experiences
Pérez Art Museum Miami (PAMM) Virtual Tours
Tour ICA Miami's permanent collection
Check out a Virtual Tour of exhibitions, interviews with Artists, and more at The Bass
Explore the Frost Science@Home digital platform series
The Ultimate Guide to Virtual Museum Resources, E-Learning, and Online Collections
Art Basel Online Viewing Rooms
Virtual Tour of The Metropolian Museum of Art
Visit museums around the world with Google Arts & Culture
Discover Museum of Contemporary Art, North Miami's At Home virtual tours and more
Check out museums, concerts and more through Miami Beach Arts and Culture Virtual Culture 
Virtual museum tours, concerts, and more online events in Broward County 
Share your story and your history with HistoryMiami
Meerkats anyone? Check out ZooMiami's MeerKam to see the baby Meerkats born at the Zoo earlier this year
Miami Childrens Museum's Museum at Home
Discover homeschool activities by Jungle Island
ZooMiami's Zoocademy with Ron Magill - Fun and educational content and activities that you can do from home! New activities added every Monday, Wednesday & Friday
Fairchild Gardens presents #MyFairchild, an online resource for home horticulture knowledge, kids crafts and DIY educational videos, wellness tips, activities, and more!
Check out Miami Moments with Dr. George 
American Museum of the Cuban Diaspora's Rafael Soriano, Cabezas Exhibit Virtual Tour
Deering Estate Virtual Field Trips
View the art work from the 2020 AKI District Wide Student Art Competition!
Lowe Art Museum's Virtual Tours
Explore the Frost Art Museum's Virtual Exhibitions and engage in #TeachingTuesdays 
Jewish Museum of Florida's Zachary Balber, Tamim Exhibit Virtual Tour
Jewish Museum of Florida's Judith Leiber, Master Craftsman Exhibit Virtual Tour
Institute of Contemporary Art Miami's Young Artists Initiative has an Open Call for works! Submit by May 8
I Remember Miami A participatory artwork by Dora García
ProjectArt Miami Resident Artist Exhibition at MOCA NoMi Exhibition Viewing May 29th – Aug. 31st, 2020
Contemporary Aboriginal Australian Memorial Poles from the Debra and Dennis Scholl Collection
Music and Theatre 
Miami Symphony Orchestra's digital concert hall 
Metropolitan Opera's Nightly Opera Streams 
Broadway World hosts Living Room Concert series featuring Broadway Stars
STARS IN THE HOUSE Concert Series with Seth Rudetsky daily at 2pm and 8pm
Stream live concerts and theatre performances 
NPR's Tiny Desk Concert Series
#TogetherAtHome Concert Series
University of Miami's Frost School of Music presents Friday Nights @Frost A different concert every Friday night
New World Symphony Fellows: Live from our Living Rooms 
Verizon's Pay it Forward Live concert series every Tuesday and Thursday at 8pm Eastern
Check out FUNDarte's digital archives.  Concerts, plays, dance performances, films and visual arts that enliven local culture with the flavors of Latin America, Spain, the Caribbean, and the world beyond. Updated daily.
Watch as 500 kids from Miami sing Glory, originally performed by John Legend, Common, and Rhymefest
Stream full-length plays every Thursday from National Theatre Live
PBS unlocks Broadway Musicals and Plays for free online streaming
Let's Sang Livestream Internet Party - Gramps' Monday Night Karaoke now on Instagram Live @letssang
Dandelion At Home offers virtual resources for kids of all ages
Live Nation Live From Home - Daily live streams from around the globe — follow artists live from their homes as they share music, stories, and more
Watch 12 TED Talks for Theatre People
South Florida Symphony's LIVE ON THE DRIVE 
Florida Grand Opera announces FGO GO. View highlights from Verdi's Rigoletto
Enter your monologue in the Creative Writing Series "Stories that Connect Us All" presented by Actors' Playhouse
Join the Miami Children's Chorus Virtual Choir
Free Live Improv with Just The Funny Thursdays, Fridays, Saturdays at 9pm
Arsht@Home Stay connected with the Adrienne Arsht Center, the arts and one another
Shred The Virus Created by High School student, Pablo Diaz, in collaboration with Sweetwater - June 1
Sing-Dance-Act-Learn Classes To-Go for All Ages
Weekly Virtual Concerts presented by Frost School of Music and the City of Coral Gables
Hamilton and The Gilder Lehrman Institute of American History have launched #EduHam at Home, a free digital program for students and their families to explore the world of the Pulitzer Prize-winning musical and America's founding era
Miami Motel Stories Unplugged! Hosted By Susie K. Taylor aka .... Mrs. Wade every Tuesday
Performer and Venue registration for Make Music Miami 2020 is now open!
Watch local artists perform every Thursday at 7pm as part of South Miami-Dade Cultural Arts Center's new series "Sessions Virtual Cabaret" starting May 14
The Artists Series of the Chamber Music Society of Lincoln Center presents a free performance every Sunday at 5pm. Explore the lineup
Dominique Morisseau's powerful play PIPELINE, is now available for FREE viewing on Broadway HD
Dance
Ailey All Access - View performances and more
Alvin Ailey American Dance Theater performs segment of "Revelations"
Arts Ballet Theatre of Florida Productions
Ballet Hispánico Watch Parties
Spectrum Dance Theatre's full length performance of SHOT
10 Sites for Free Online Dance Classes While Staying at Home!
Film
Watch 3 free films a day courtesy of Coral Gables Art Cinema's online "Drive-In"
Screen unique movies from around the world through O Cinema's Virtual Theater Project
"On This Land: The Charles Deering Estate" documentary
MJFF Presents Short Film Showcase
Reading, Writing, and Culture
Immerse Yourself in French Culture from the French Embassy in the U.S. 
Viernes Culturales will be broadcasting live daily at 4pm on their Instagram account to bring us history, art, culture, music, and food... all LIVE from #littlehavana.
Listen to audiobooks free of charge for students on Audible
University of Iowa's International Writing Library MOOC-Pack Library
Get creative with over 1,000 writing prompts for students from The New York Times
O, Miami Festval 2020 goes O,nline!
Miami Book Fair (MDC): Physically Distant / Socially Engaged - Author readings and conversations, workshops, and even a Storybook Picnic for kids
Fantasy Theatre Factory: Together Apart Youth Theatre in the Time of Coronavirus (Creative Writing Project)
Authentic Indian Cooking class from Ayesha's Kitchen
Explore the World with National Geographic Kids
Aja Monet's Online Poetry Reading Series
Little Haiti Book Festival is Online! 
Kevin Jonas reads to your kids!
Miami Book Fair's Author Discussion on Race in America (recorded during the 2019 Miami Book Fair)
Miami-Dade Public Library System's Online Summer Reading Challenge June 20 - August 8, 2020
Classes, Auditions, and Camps
Seminole Theatre Players Digital Auditions for Disney's The Hunchback of Notre Dame and Mamma Mia!
MasterMiND Miami New Drama Master Class Series
Broadway World launches Digital Showcase Database for College Seniors who are not able to showcase in New York this spring
Did your high school musical get cancelled? Sing your song for Broadway star Laura Benanti! Tag @LauraBenanti and #SunshineSongs
Take Free Dance Classes with Paul Taylor American Dance Company
Dance Classes available online with Thomas Armour Youth Ballet
Ballet Flamenco La Rosa offers Online Classes - Flamenco, Creative Writing and Acting in English and Spanish
Free Dance Classes with Debbie Allen on Instagram @therealdebbieallen
Area Stage Company's Virtual Acting Classes
Enjoy Miami-Dade County Parks from your home! New videos posted every Thursday to @miamidadparks on Instagram and available on demand on YouTube
Young Talent Big Dreams Goes Virtual! The most widespread, local, FREE youth talent competition in Miami-Dade County is back for its 10th season
Speak Up, a creative writing program supporting the artistic and professional growth of teens
Miami City Ballet's free dance classes
The Bass Virtual Summer Art Camps
Greater Miami Youth Symphony Summer Camp
Frost Young Musicians Summer Camp
Thomas Armour Youth Ballet free Online Summer Classes
African Heritage Cultural Arts Center Summer Arts Conservatory 2020
South Florida Youth Symphony Virtual Summer Camp
Virtual Dance & Movement Classes for Students with Disabilities Presented by Arts4Learning Miami
Summer STEAM Adventure - FREE virtual camp offered by Miami Dade College Homestead
Cuban Classical Ballet Summer Intensive 2020
Digital All Kids Included Festival - Launches September 4
Useful Resources
Miami Herald's comprehensive list of resources available to Miami-Dade residents
Resource Bank for Educators Transitioning to Online Learning During COVID-19
Chamber Music Society of Lincoln Center's Online Education Resources
Miami on the Cheap's list of Cool stuff for kids to do at home
GEM Culture, Inc. is offering free meditation sessions to preteens, teens and young adults.
National Alliance on Mental Illness (NAMI) Miami-Dade Groups Now Available Online
Keep your child engaged with audio books, craft ideas, coloring books and more with Stay Home Miami, courtesy of The Children's Trust
O, Miami O, nline Curriculum Bank - lesson plans, prompts, and other poetic things to do for all ages and experience levels
Arsht@Work: Free 30-minute résumé review or job-interview coaching session