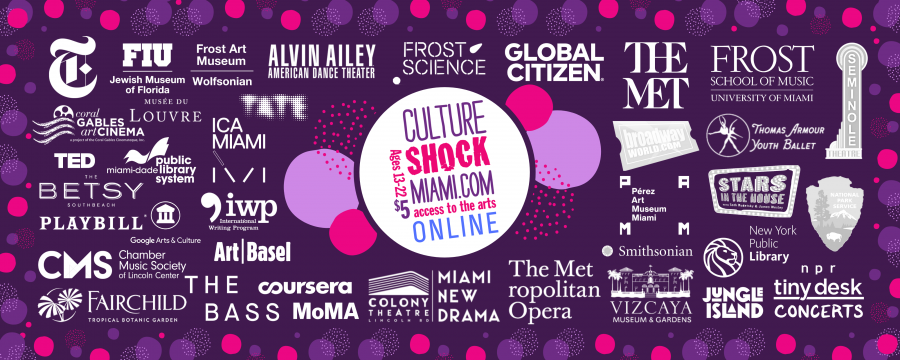 Miami-Dade County remains vigilant in taking measures to stop the spread of COVID-19. As a result, county owned facilities are currently closed, as are theatres, museums, parks, libraries, and performance spaces throughout Miami-Dade and South Florida. 
In light of these cancellations and closings, Culture Shock Miami remains as committed as ever to provide affordable access to arts and culture! Read on for a list of online performances, virtual exhibitions, and on-demand resources that will help you keep the arts alive and well during this time. This list is updated daily!
If you know of an online event or resource that is not listed below, let us know about it! 
Museums and Visual Arts
Vizcaya Museum and Gardens Free Online Experiences
Pérez Art Museum Miami (PAMM) Virtual Tours
Tour ICA Miami's permanent collection
Check out a Virtual Tour of exhibitions, interviews with Artists, and more at The Bass
Explore the Frost Science@Home digital platform series
The Ultimate Guide to Virtual Museum Resources, E-Learning, and Online Collections
Art Basel Online Viewing Rooms
Virtual Tour of The Metropolian Museum of Art
Visit museums around the world with Google Arts & Culture
Discover Museum of Contemporary Art, North Miami's At Home virtual tours and more
Check out museums, concerts and more through Miami Beach Arts and Culture Virtual Culture 
Virtual museum tours, concerts, and more online events in Broward County 
Share your story and your history with HistoryMiami
Meerkats anyone? Check out ZooMiami's MeerKam to see the baby Meerkats born at the Zoo earlier this year
Miami Childrens Museum's Museum at Home
Discover homeschool activities by Jungle Island
ZooMiami's Zoocademy with Ron Magill - Fun and educational content and activities that you can do from home! New activities added every Monday, Wednesday & Friday
Music and Theatre 
Miami Symphony Orchestra's complete FLY with MISO concert 
Metropolitan Opera's Nightly Opera Streams 
Broadway World hosts Living Room Concert series featuring Broadway Stars
STARS IN THE HOUSE Concert Series with Seth Rudetsky daily at 2pm and 8pm
Stream live concerts and theatre performances 
NPR's Tiny Desk Concert Series
#TogetherAtHome Concert Series
The Betsy Hotel presents Zen and the Art of Architecture, Photography, Poetry, and Music - Presenting: Cellist, Jason Calloway April 6 at 7pm
The Betsy Hotel presents Zen and the Art of Architecture, Photography, Poetry, and Music - Presenting: Poet, Campbell McGrath April 13 at 7pm
The Betsy Hotel presents Zen and the Art of Architecture, Photography, Poetry, and Music - Presenting: Robert Zuckerman: Zen and the Art of Photography April 20 at 7pm
University of Miami's Frost School of Music presents Friday Nights @Frost A different concert every Friday night
New World Symphony Fellows: Live from our Living Rooms 
Verizon's Pay it Forward Live concert series every Tuesday and Thursday at 8pm Eastern
Check out FUNDarte's digital archives.  Concerts, plays, dance performances, films and visual arts that enliven local culture with the flavors of Latin America, Spain, the Caribbean, and the world beyond. Updated daily.
Watch as 500 kids from Miami sing Glory, originally performed by John Legend, Common, and Rhymefest
Stream full-length plays every Thursday from National Theatre Live
Post Modern JukeBox Music Festival: Shelter In Swing- April 2 & 3. Pay what you can 
PBS unlocks Broadway Musicals and Plays for free online streaming
Let's Sang Livestream Internet Party - Gramps' Monday Night Karaoke now on Instagram Live @letssang
Dandelion At Home offers virtual resources for kids of all ages
Live Nation Live From Home - Daily live streams from around the globe — follow artists live from their homes as they share music, stories, and more
Watch 12 TED Talks for Theatre People
IlluminArtist Online Recital Series: Annie Rosen, Mezzo Soprano / Thursday, April 2nd at 8:00 PM / $5 ticket
IlluminArtist Online Recital Series: Elijah McCormack, Male Soprano / Wednesday, April 8th at 8:00 PM / $5 ticket
Dance
Alvin Ailey American Dance Theater performs segment of "Revelations"
Ailey All Access - View performances and more 
National Water Dance - April 18 at 4pm Eastern
Arts Ballet Theatre of Florida Productions
Film
Watch 3 free films a day courtesy of Coral Gables Art Cinema's online "Drive-In"
Screen unique movies from around the world through O Cinema's Virtual Theater Project
Reading, Writing, and Culture
Immerse Yourself in French Culture from the French Embassy in the U.S. 
Listen to audiobooks free of charge for students on Audible
University of Iowa's International Writing Library MOOC-Pack Library
Get creative with over 1,000 writing prompts for students from The New York Times
Dolly Parton's Imagination Library to host "Goodnight with Dolly" where Dolly will read a special book every Thursday at 7pm 
Classes and Auditions
Seminole Theatre Players Digital Auditions for Disney's The Hunchback of Notre Dame and Mamma Mia!
MasterMiND Miami New Drama Master Class Series
Broadway World launches Digital Showcase Database for College Seniors who are not able to showcase in New York this spring
Did your high school musical get cancelled? Sing your song for Broadway star Laura Benanti! Tag @LauraBenanti and #SunshineSongs
Take Free Dance Classes with Paul Taylor American Dance Company
Dance Classes available online with Thomas Armour Youth Ballet
Ballet Flamenco La Rosa offers Online Classes - Flamenco, Creative Writing and Acting in English and Spanish
FREE MUSICAL THEATRE WORKSHOP led by Jamel Booth, Friday, April 3 at 1pm on Instagram Live @outspoken_j
Free Dance Classes with Debbie Allen on Instagram @therealdebbieallen
Area Stage Company's Virtual Acting Classes
Register for Brit + Co. classes for free through April 9 using promo code "SELFCARE"
Free Masterclass with Black Violin - Tuesdays & Fridays April 3 - May 15 at 2pm. Starts Friday, April 3 - @ YouTube.com/BlackViolinMusic
Enjoy Miami-Dade County Parks from your home! New videos posted every Thursday to @miamidadparks on Instagram and available on demand on YouTube
Useful Resources
Miami Herald's comprehensive list of resources available to Miami-Dade residents
Resource Bank for Educators Transitioning to Online Learning During COVID-19
Chamber Music Society of Lincoln Center's Online Education Resources
Miami on the Cheap's list of Cool stuff for kids to do at home
GEM Culture, Inc. is offering free meditation sessions to preteens, teens and young adults.
National Alliance on Mental Illness (NAMI) Miami-Dade Groups Now Available Online