Written by Kerren Dieuveille
Kerren was so impressed with all of the magic that is happening at Coral Gables Art Cinema that she returned to check out their After Hours screenings taking place all summer. Read on to hear what she had to say about the films she saw in May! 
Summer at the Cinema: May Wrap Up
Destroy All Monsters (Screened on May 1st)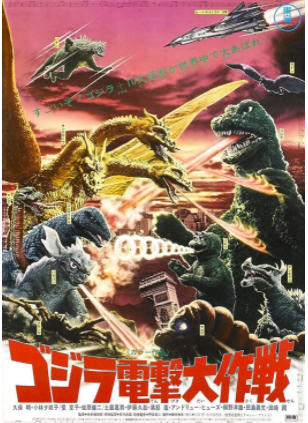 Summary:
After achieving world peace humans have the 11 Kaiju trapped on monster island for observation by the United Nations Science Committee (UNSC) when a race of female aliens use mind control to take over the crew tasked with watching over the island. These female aliens gain control of these Kaiju who proceed to attack major cities one by one from the New York Harbor to the Arc de Triumphe in France before there is an all out attack on Japan by multiple Kaiju. All the while a crew of men from the Japanese moon base are searching for the locations of these aliens headquarters. This culminates into a battle between the 11 kaiju and Ghidorah, the flying three headed space monster, featuring a notable scene Godzilla stomping out one of its necks before picking up its head just to beat it and stomp out its neck again.
Review:
Destroy All Monsters is a funny action movie about aliens and monsters for 21st century viewers. It is hard not to laugh as the only non-japanese actor with a speaking role is consistently out of sync with the words he is supposed to be saying. It is not a bad watch if you do not mind reading english subtitles. Destroy All Monsters is one of those old movies where you shouldn't take it too seriously and just enjoy the ride. I would definitely recommend it if you have an hour and a half of free time.

Akira (Screened on May 8th)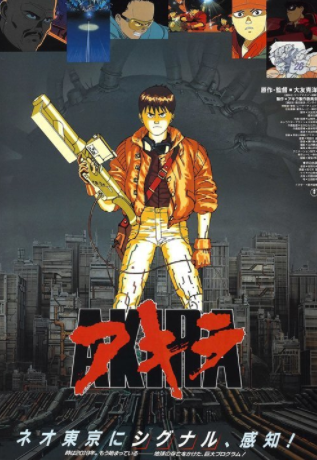 Summary:
Set in a dystopian World War 3 Neo-Tokyo Shōtarō Kaneda, leader of a teenage biker gang, ends up involved in a plot involving children with supernatural powers and the government when his childhood friend, Tetsuo Shima, gets telekinetic abilities after a motorcycle accident where he encounters one of the supernatural children. As Tetsuo's frustration at his circumstances and greed for power continues to grow, it is a race against time as Kaneda resolves to stop his childhood friend before Neo-Tokyo gets wiped off the map.+
Review:
Akira is a tale of human greed and those who stand against it set against the backdrop of Neo-Tokyo in the midst of a coup. Main characters in the movie are split into those who seek power and those who seek to protect people from those who seek power. One of the main themes I intimated after watching the movie was that those who seek power outside the bounds of humanity, while ignoring all warning signs, are bound to meet their end by the very thing they desire. Tetsuo is taken over by his own power and almost killed while the scientist dies due to him not giving the call to kill Tetsuo before his power went out of control. The movie ends with Kaneda and the Colonel, who took control of the military to attempt to save Neo-Tokyo, are left behind in the ruins as Tetsuo and the supernatural kids disappear into a new universe.

Enter the Dragon (Screened on May 15th)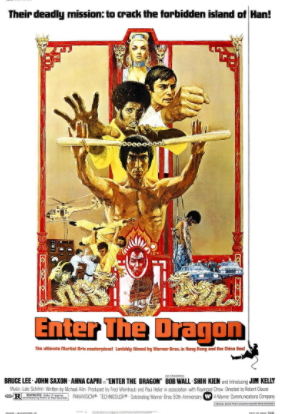 Summary:
Set off on an action-packed adventure starring Bruce Lee as a monk and martial arts expert turned double agent about to enter a martial arts tournament on a secluded island. His motives are to avenge the man who made his sister commit suicide and to find proof of the nefarious deeds of crime lord Han for a British intelligence agent. Flanking him are John Saxon as Roper and Jim Kelly as Williams both martial artists with their own reasons for coming to the island. As each man begins to realize that the mysteries on the island are not only illegal but deadly. This builds up to Roper leading an all out brawl on the island's training grounds while Lee goes one on one with Han in a hall of mirrors and a battle of not only strengths but wits.
Review:
Enter the Dragon is a martial arts action movie that is part spy thriller. It is a product of its time being released at the beginning of the martial arts craze that would have a hold on American pop culture until the mid-90s. Lee is fleshed out as a kind of moral high ground character through his dialogue who does not fall into being a stickler because of the comedic moments sprinkled throughout the film. Roper fall into a femme fatale storyline which is a little bare bones due to how little we see him and his leading lady interact or connect outside of stolen glances and sexual scenarios. Although Roper does provide insight into Han's nefarious plots when he is chosen as a possible successor to Han's criminal empire. Williams is a comic relief that needed a bit more development in the beginning, either in his goals or in his relationship with Roper and Lee, to make his loss later on mean something to the audience. Knowing that him and Roper are Vietnam veterans who knew each other once upon a time does not give the audience enough emotional connection to him to lament his off-screen torture and on-screen death. Overall a fun, easy watch with a decent plot and enough martial arts action for everyone. Give it a watch for a nice throwback action movie with some 70s flair.
Little Shop of Horrors Director's Cut (Screened on May 29th)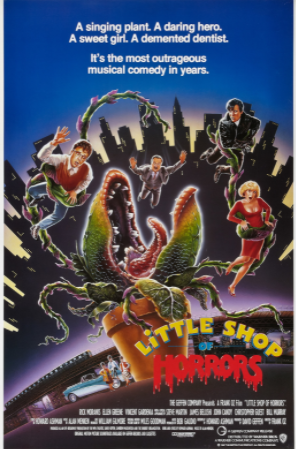 Summary:
Seymour Krelborn is a down on his luck plant enthusiast working at a run down flower shop in the rough neighborhood of Skid Row. The flower shop's owner, Mushnik, threatens to close the shop leaving Seymour and his love interest Audrey out of a job. Desperate for anything to save  the shop Seymour brings up a plant he bought from a Chinese flower shop after a "total eclipse of the sun". Though the plant does bring fame, money, and notoriety to the shop a string of deception, dirty deeds, and death seems to follow.
Review:
Little Shop of Horrors touches on themes of domestic violence, self esteem issues, sadomasochistic relationships, blackmail, corporate greed, and the pressures of the limelight without ever taking itself so seriously that you can't get a good laugh out of it. The journey through different musical genres and the continued appearance of the Greek Chorus made up of familiar faces such as Tichina Arnols and Tisha Campbell makes the story move along at an enjoyable pace. The Alien invasion ending, while different from the original theatrical release, is a great watch that you can tell took a lot of effort. It may even seem familiar if you watched Destroy All Monsters earlier this month as much of the scenes of escape and destruction seem to harken back to those original Godzilla-esque destruction and running sequences.
In this version there is no happy ending…..and honestly I feel that's for the best. The director's cut ends with Seymour's bad action finally catching up to him leading to the death of Audrey and himself. Though the original film gives the characters a happy ever after it robs the watchers of the lesson they skim over in the process. Seymour had multiple chances to turn back; he could have killed the plant early on when it was still small or talked Audrey into running away with him or turned himself in to the police but he didn't. His greed and his ambitions slowly ate away at his common sense and humanity because in his mind the end goal was him and Audrey living happily ever after using any means necessary. This would eventually lead to an alien invasion that devastates the earth while he achieves only momentary happiness if that. American audiences have come to expect happy endings demanding on screen what is wanted in real life to briefly avoid the sad reality that sometimes bad guys triumph and good guys die but the story moves on with or without them. Seymour was never meant to be a hero, just a protagonist as susceptible to greed as any average man in less than savory circumstances. This was overall an interesting musical movie with a unique premise that takes you on a trip through different musical styles that are both fun and familiar.

Thank you readers for tuning in for the May Wrap Up of Summer at the Cinema!  Throughout the summer, in collaboration with the Coral Gables Art Cinema, the Culture Shock Miami Blog Team will be presenting more wrap ups of summer After Hours screenings. The After Hours screenings are composed of retro movies meant to appeal to younger audiences. Travel with us through the big screen from the 60s to present day! So after fun at the beach by daylight join us for Summer at the Cinema by streetlight! More info about  After Hours screenings.