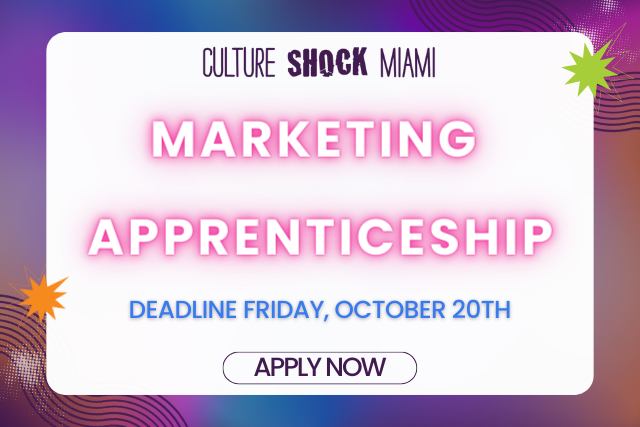 Culture Shock Miami Marketing Apprenticeship

The Culture Shock Miami Marketing Apprenticeship is designed to provide opportunities to college students in South Florida to obtain practical, hands-on experience in a local government arts agency.
We are committed to paying a fair wage for the apprenticeship and also offer complimentary tickets to cultural activities. Applicants from diverse backgrounds that are historically underrepresented in the leadership of arts organizations are encouraged to apply.
About Culture Shock Miami
Culture Shock Miami, the audience development program of the Miami-Dade County Department of Cultural Affairs, is designed to introduce the next generation of audience members to live arts and cultural experiences at the age when they are beginning to make their own entertainment decisions. Based on research that shows most people begin their appreciation for the arts at a young age, Culture Shock Miami is founded on the premise that when teens and young adults make the arts a regular entertainment choice, they are more likely to become full-price ticket buyers and subscribers in the future. Through our website teens and young adults (ages 13-22), can purchase $5 tickets to top music, theatre, and dance performances, as well as admission to museums, landmarks, and cultural destinations in and around Miami-Dade County. With the purchase of one $5 ticket for a 13-22 year old, a second $5 ticket can be purchased for someone of any age to accompany them.
About the Culture Shock Miami Marketing Apprenticeship
The work involved in the apprenticeship is spread across a variety of areas including marketing, administration, and ticketing. General responsibilities include but are not strictly limited to:
Assisting with the event setup process on CSM website and ticketing system.
Compiling and distributing ticket reports and lists to stakeholders daily.
Assisting with creating engaging content for social media, analyzing performance and optimizing effectiveness.
Representing Culture Shock Miami at events.
Conducting market research.
Managing inventory of promo items and merch.
Supporting overall marketing efforts as needed.
Providing administrative support as needed for CSM initiatives including Miami-Dade Arts Education Collective and Student Advisory Council.
Where possible, we are happy to provide additional opportunities that are aligned with your specific area of interest.
Basic qualifications include:
Enrolled as an undergraduate in college or university or a recent graduate within the last year OR enrolled in a graduate level arts administration or marketing program.
Excellent communication skills - written and verbal.
Collaborative nature. We value input, ideas, and fresh perspectives!
Skilled in content creation for social media, including image and video editing.
Proficient with Google productivity tools (Docs, Sheets, Forms, etc), graphic design programs (Canva or Adobe Creative Suite), and online meeting platforms (Zoom, Teams, etc).
Experience with digital marketing is a plus.
A passion for arts and culture in Miami-Dade County.
Interest in learning how a local government arts agency is run.
A desire to pursue the business side of the arts professionally in South Florida.
Ability to take direction, focus on details, and adhere to timelines and priorities.
Please note the following:
Apprenticeship to run through the rest of the school year with a possibility for an extension. Start/end dates are flexible.
Apprenticeship will take place at the Miami-Dade County Department of Cultural Affairs which is located in the Stephen P. Clark Government Center in downtown Miami.
Apprenticeship is approximately 15-20 hours a week. Most hours scheduled while the Department of Cultural Affairs is open (Monday – Friday 8:00am – 5:00pm), although some weekend and evening hours will be needed.
Some work may be performed virtually upon prior agreement with a supervisor; however, the apprentice will be required to help work various events throughout the county that they will need to be in person for.
Pay rate is $15/hour. This position will be paid through an outside staffing firm who is contracted by Miami-Dade County. This is not a County employee position.
We are committed to offering you a meaningful work experience to help build your resume. Upon successful completion of the apprenticeship, we are happy to provide letters of recommendation.
To apply for the Apprenticeship:
Please upload your resume and a cover letter introducing yourself, your goals for pursuing arts administration, and how you think the Culture Shock Miami apprenticeship can help achieve them. Work samples may also be included but are not required.
Qualified applicants will be contacted for an interview.